Breakfast, Lunch and Dinner | October Half Term
St Ives is known in Cornwall for the wealth of restaurants it has to hand, from seafood cuisine to Cornish cafes you'll find yourself in a struggle to decide where to go and what to try. From a seaside coffee to an Asian-infused evening, if you're staying with us this October Half Term you're in luck. Whether with friends or family or a romantic escape there's something for you.
October Half Term is one of the most sought after weeks outside of the summer holidays and the best part? The beaches are back and free to explore with your dog, with the beach ban lifted St Ives and greater Cornwall becomes a blank canvas of opportunity so if you're bringing your four legged friend why not find out the best places to take your pooch by having a look at our most recent blog post?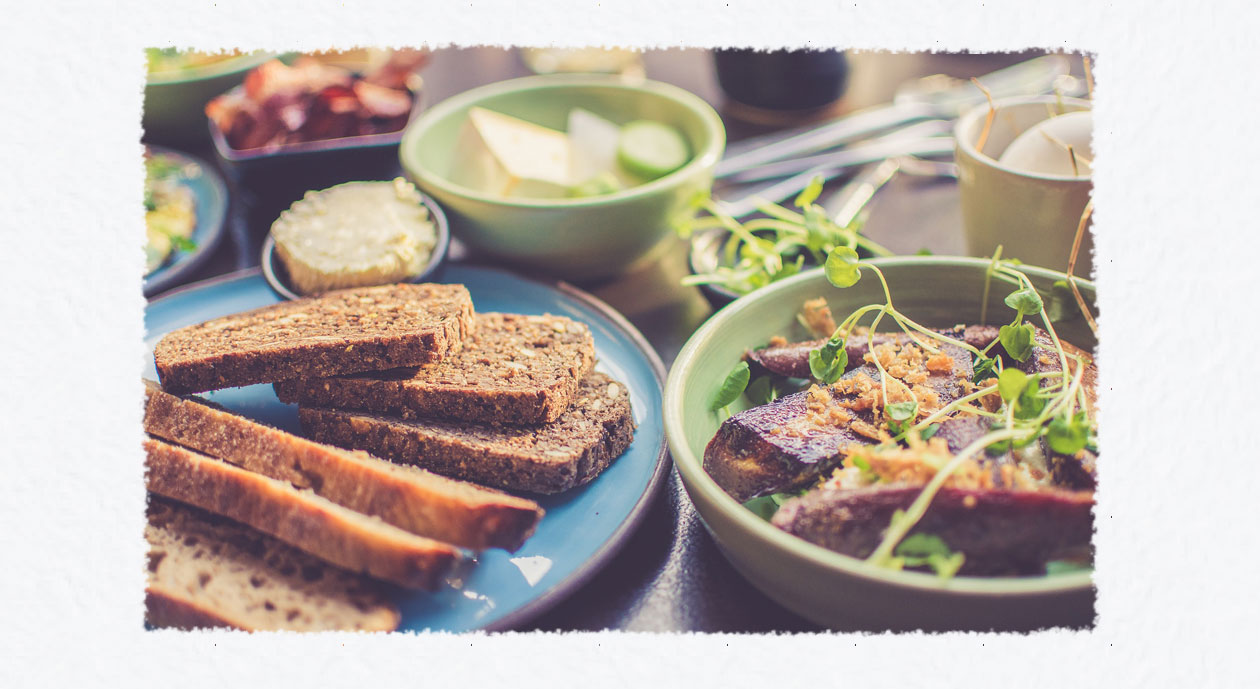 Perfect for a bite to eat in the morning or a spot of lunch, this Cornish cafe is a wonderful place to experience the best of Cornish cuisine. With a wealth of locally sourced ingredients on the menu Mark and the team deliver some of the best dishes you will find in the town.
You would be forgiven if you walked past Cellar Bistro on Fore Street, nestled out of the way down some steps at the point where Fore Street splits in two the Cellar Bistro is a St Ives favourite for so many. Their menu is stocked with some of the most wonderful dishes with a lot being friendly for those with intolerances too. The Cellar Bistro is a must visit if you're looking for an evening out in St Ives.
3) Porthmeor Beach Cafe
You would be hard pressed to argue that there's a better view in town. Porthmeor Beach Cafe overlooks the titular sands and whatever time of year there's bound to be moments where the sunlight catches the waves at the right angle to create a memory that will last forever. With a range of seafood on the menu along with tapas you can spend hours overlooking the beach from their private booths.
4) Olive's Cafe
Nestle up with a coffee in the sun or sit inside and enjoy the perfect break to your day. With outdoor seating Olives allows you to make the most of the beautiful Cornish Weather and enjoy a relaxing October Half Term escape...
This restaurant might be small, but for what it lacks in size it makes up for with their impressive menu of burgers. A favourite with the locals be sure to make time to visit as you may have to wait. With vegan and gluten free options too everyone can enjoy something from Blas.
6) Harbour Fish and Chips
Sitting on the harbour front the aptly named Harbour Fish and Chips offers traditional British cuisine. When in St Ives it's hard not to enjoy the ocean's bounty so what better than fish and chips overlooking the ocean?
Bringing a spot of Asian cuisine to the South West coast Talay Thai are one of the best places to sit back and enjoy an evening out in St Ives. With a wonderful menu filled with curries, stir fry and tapas there's almost certainly something for you to enjoy.
Mere moments from the Sail Lofts luxury self catering holiday cottages the Loft Restaurant offers a night out with views across St Ives. There's no better place to sit back and relax before heading back to your self catering holiday cottage after a day exploring the wonders of the Cornish coastline.
9) The Halsetown Inn
For a family Sunday lunch look no further. Just a short drive from the Sail Lofts toward Halsetown this countryside pub has a wonderful Sunday lunch for all the family. Make sure you try the cheesy leeks - they're irresistible!
With a perfect location Porthgwidden Beach Cafe is one of the more popular destinations for those in St Ives. Dog friendly and a mere two minute walk from our luxury holiday cottages, Porthgwidden is a great spot to enjoy some lunch or simply sit and watch the waves drift back and forth on the sand.
This is just one part of our feature of October in St Ives, if you're looking to find out what's on throughout the week for family days out or where to take your four legged friend find out more on our blog.