New Year break by the sea
After all the festivities and the celebrations of Christmas and New Year, January and February are the perfect time of the year to recharge the batteries. Whether you are looking to take some time off from your daily routine or simply would like to visit Cornwall at a quieter time of year, St Ives will be your perfect destination.
Sail Lofts apartments
There is no better feeling than having the time to slow down and to have nothing else better to do than relaxing and enjoying the momen. Read your book with a hot drink or catch up on a Netflix series in the comfort of your own self catering apartment in St Ives. Our spacious living room has everything you need There to fully appreciate the peace and quiet after a busy end of year.
If you like to keep busy, all our apartments have a fully equipped kitchen and everything you need to prepare some delicious meals for the whole family. Some of us may not be interested in cooking whilst on holiday but it may be a way for others to fully relax and appreciate the time off.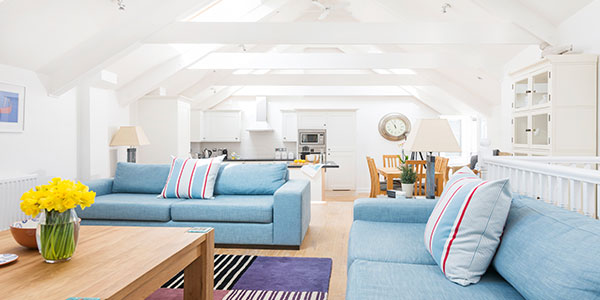 Recharge by the sea
With the sea only a few steps away, it is always a good occasion to take a dip in the sea, catch some waves or simply walk along the beach admiring the beauty that Cornwall has to offer. Porthmeor Beach will be your closest one however if you are willing to travel a bit further away, we would recommend visiting Sennen Cove, Porthcurno or even St Agnes, to name a few of the most beautiful beaches in Cornwall.
Dog friendly accommodation in St Ives
With a choice of 5 dog-friendly apartments available at Sail Lofts, January and February are the perfect months of the year to take your pooch on a little holiday. Porthmeor, Porthminster, The Harbour or even Gwithian, our four-legged friends are allowed everywhere and there is no better feeling that taking your dog for a walk on a beautiful 3 mile stretch of sand.