St Ives activities
St Ives is the perfect place when it comes to enjoying the beautiful scenery of the sea. Holidaying in St Ives often means having a drink along the harbour looking at the boats, having breakfast on Porthminster Beach whilst the town is slowly waking up, or exploring new menus and tastes on Porthmeor Beach whilst looking at the sunset.
During the day, there is plenty of activities taking place around St Ives for you to fill your time and make the most of your holiday in this beautiful place.
Book one of the boat tours available on The Harbour front and explore St Ives and the Cornish coast from the sea. From stunning coastal cliffs and beaches with breathtaking views, all the tours available will be showing a side of St Ives you have never seen before. With more than 25 years of experience, the experienced captain and his boat Dolly P will be the best ones to tell you about the history of the area and will share their knowledge with you along the way.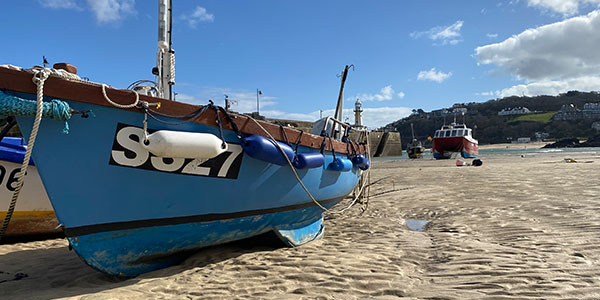 The town has a lot of history and everyone who comes on holiday to St Ives has a great story to tell about this place. To know more about St Ives, choose between" St Ives artists tour" or "The Story of St Ives" and learn about all the artists and main characters who built St Ives and helped develop this town. All tours are on Wednesdays at 11 am from St Ives Guildhall and last about an hour and a half.
Porthmeor Beach is one of the best places in the UK to surf and of course, holidays in St Ives often mean making the most of the sea around. Whether you are a novice and fancy trying your skills in the water or simply would like to improve your ability to stand up on the board, the teachers from St Ives School will offer you a tailored experience for you to have the best time in the water.
A little further up the hill is The Leach Pottery. Founded in 2008, this famous pottery studio hosts many acclaimed potters and apprentices who are pursuing their paths to become experienced ceramicists. If you fancy trying your skills on the wheel with one of their workshops or simply would like to browse through their selection of works available in the shop, the Leach Pottery shop is open Monday to Saturday 10-5 and the gallery is open Tuesday to Thursday & Saturday 10-5.
If you need any help to book activities whilst staying at Sail Lofts, please feel free to pop in our office and ask a member of the team.